We've all been there: an aromatic incense stick in hand but no holder in sight. We're here to show you it's not the end of the world. With a bit of creativity and safety in mind, we'll guide you through the art of burning incense sticks without a holder. We'll explore DIY solutions, and essential safety measures. Let's master this simple yet profound ritual together, ensuring your relaxation doesn't get put on hold.
Incense sticks can be burnt without a traditional holder by using alternative methods such as the potato method, sand method, or foil method.
Safety measures should always be followed when using alternative incense holders, including ensuring the holder is stable and fire-resistant, using heat-resistant materials, positioning the holder away from flammable objects, and never leaving burning incense unattended.
Burning incense should always be done in a well-ventilated area, and the incense should be extinguished before leaving or sleeping.
Understanding the Basics of Incense Burning
Before we delve into the details, let's first ensure we've got a solid grasp on the three fundamental aspects of incense burning: the incense stick itself, the heat source, and the need for proper ventilation.
The heart of incense burning, quite literally, is the incense stick. We're talking about a thin, cylindrical object, often made from bamboo, which is coated with a substance that releases aromatic smoke when burnt. Incense sticks come in a dazzling array of scents, from calming lavender to energizing citrus, so we can choose the perfect fragrance to suit our mood or occasion.
Now, let's talk about the heat source. We need a flame to ignite the incense stick, and this can come from a simple match or a lighter. What's important here is safety. We can't stress enough how vital it is to handle the flame with care, ensure the incense stick is well-ignited, and then fully extinguish the flame.
Finally, ventilation. It's not just about filling our space with beautiful, fragrant smoke. It's also about making sure that we're not creating a stuffy or smoky environment that could be uncomfortable or harmful. We should always burn incense in a well-ventilated area, keeping windows or doors slightly open if necessary.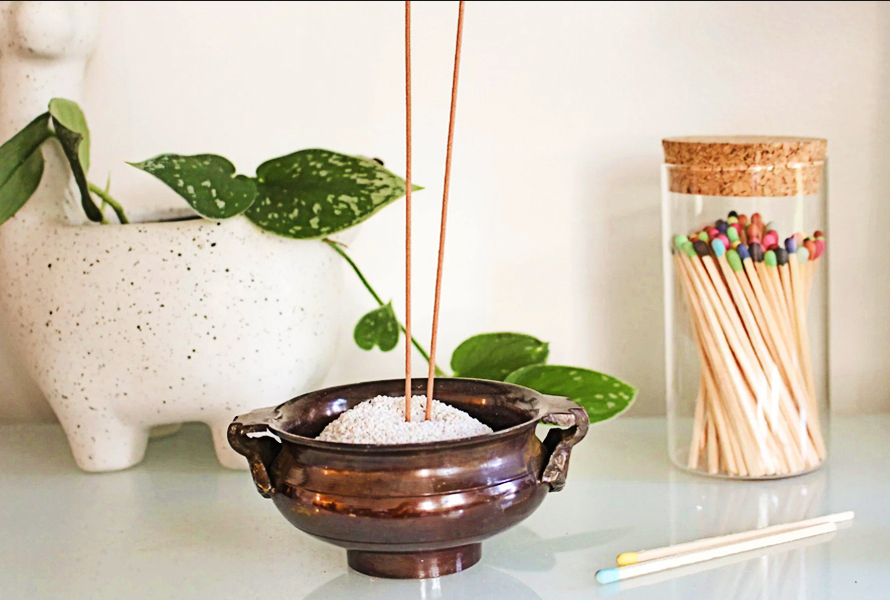 DIY Solutions: Burning Incense Sticks Without a Holder
Diving into DIY solutions, we'll explore how to burn incense sticks without a holder, and you'll soon see it's easier than you might think. We're going to suggest a few creative and safe ways to enjoy your incense using everyday household items.
Humble potato:

 Yes, you read that right – a potato. It's as simple as poking the incense stick into an unused potato. The spud's firm texture holds the stick upright while the moisture inside keeps the potato from burning.



Bowl or jar with sand:

 We've got the sand method, a favorite amongst incense enthusiasts. Fill a small bowl or jar with sand, then stick your incense into it. The sand holds the stick securely and captures any falling ash. You can even add a touch of elegance by using colored sand or pebbles.



Foil method:

 It's perfect if you're in a pinch and need a quick solution. Fold a piece of aluminum foil into a small square and poke your incense stick through it, creating a makeshift holder. Make sure to bend the edges upwards to catch the ash.



Using a plant pot:

 If you've got a plant pot handy, you're all set. Push your incense stick into the soil. The earth is a natural insulator, preventing the pot from heating up. Just make sure the incense stick isn't too close to any leaves to avoid any accidental singeing.



Using a candle:

 This might sound counterintuitive, but it works like a charm. Just make sure you're using a candle that's wide and sturdy, like a pillar candle. Simply poke your incense stick into the wax, close to the edge but not too near the wick. The wax holds the stick in place, and as the candle burns down, the wax will melt and reform around the stick, keeping it secure.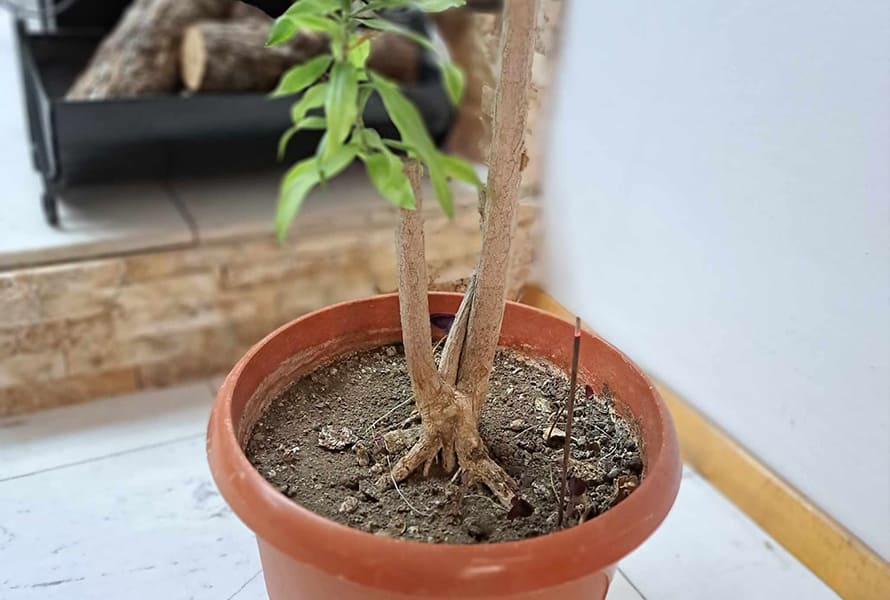 Safety Measures When Using Alternative Incense Holders
In this section, we'll delve into the safety measures that should be taken into account when using alternative incense holders. It's all too easy to get caught up in the soothing scents and calming ambiance that incense provides, but forgetting about safety can lead to unforeseen mishaps.
First, let's discuss the basics. Always ensure the incense is securely positioned. We can't stress enough how critical it is to ensure the stick doesn't wobble or topple over. A fallen incense stick can lead to fire hazards or unsightly scorch marks.

Next, the selection of incense holder materials is key. Keep in mind incense sticks burn at high temperatures, so the holder must be heat-resistant. Avoid using plastic or other flammable materials. Stick to ceramics, metal, or glass.

Now, let's talk about location. Position your makeshift holder away from flammable objects like curtains, papers, or wooden furniture. A safe distance from these objects reduces the risk of accidental fires. Plus, ensure the area is well-ventilated to prevent smoke accumulation, which can lead to respiratory discomfort.

Lastly, never leave burning incense unattended. It might sound tedious, but it's an essential safety measure. If you're stepping out or going to sleep, make sure to extinguish the incense. Remember, it's better to be safe than sorry.
We've journeyed together through the aromatic world of incense, learning the ropes and crafting DIY holders. Still, safety remains our North Star, guiding us through these fragrant adventures. Remember, burning incense without a holder can be like dancing with fire – thrilling, yet potentially dangerous if not done wisely. So, let's continue to bask in the soothing scents responsibly, making sure our incense burning journey is as calming and mesmerizing as the smoke itself.